Our Horses
Friesian horses - strong, elegant, calm, majestic.
On our homestead we have a herd of Friesian horses that came from the Netherlands in 2014. This breed fascinated us with their appearance and calmness, soon they became not only our best friend but also great companions in the homestead activities. When working with Friesian horses we feel the peace, because they are brave, calm and very clever companions. At the moment the herd consists of more than 10 Friesians.
Friesian breed
The Friesian breed is one of the oldest horse breeds bred in Europe, it has been used for agricultural work and in war since ancient times. The Friesian breed originated in the northern Netherlands, in the province of Friesland. Due to the horse's unusually brave character and strength in the Middle Ages they quickly became irreplaceable war horses. They were also used by the Romans, due to their good nature, and were also popular in England, where this breed was later mixed with the other breeds.
In the IIIX, when heavy horses were no longer needed, Andalusian horse blood was mixed into the Friesian breed, which had the purpose of making this breed more elegant and suitable for carriages. In the early XX period this breed almost came to extinction, until the Second World War, when a horse became irreplaceable for the transport of goods. Today, we can see Friesians in various tourist activities, dressage and carriage pulling competitions.
Friesian Exterior
The standard for the Friesian breed is black hair. They have very beautiful and long manes and tails. Only Friesians that have only a few white hairs on the forehead are recognized by the KFPS. Sometimes, if the parents are very noble, their children grow chestnut hair, but this is a rare case.
Horse Riding
Horse riding – this is an extremely fun activity for both – young and older. Being with a horse makes you experience unforgettable impressions, relax and distance yourself from everyday thoughts.
Horse Riding in the Nature
It is not just horse riding, it is also a way to relax, that can become an extreme activity if you want. We always provide riders with a helmet and for children, we arrange a protective vest and helmet. Although the horse is a smart, big and trained creature, it is also an animal that can get scared. An experienced rider will definitely enjoy the gallop in the wide fields!
Horse Riding for Two 
Romantic entertainment for a couple, horseback riding with two accompanied by a coach. Riding by the lake while the sun goes down.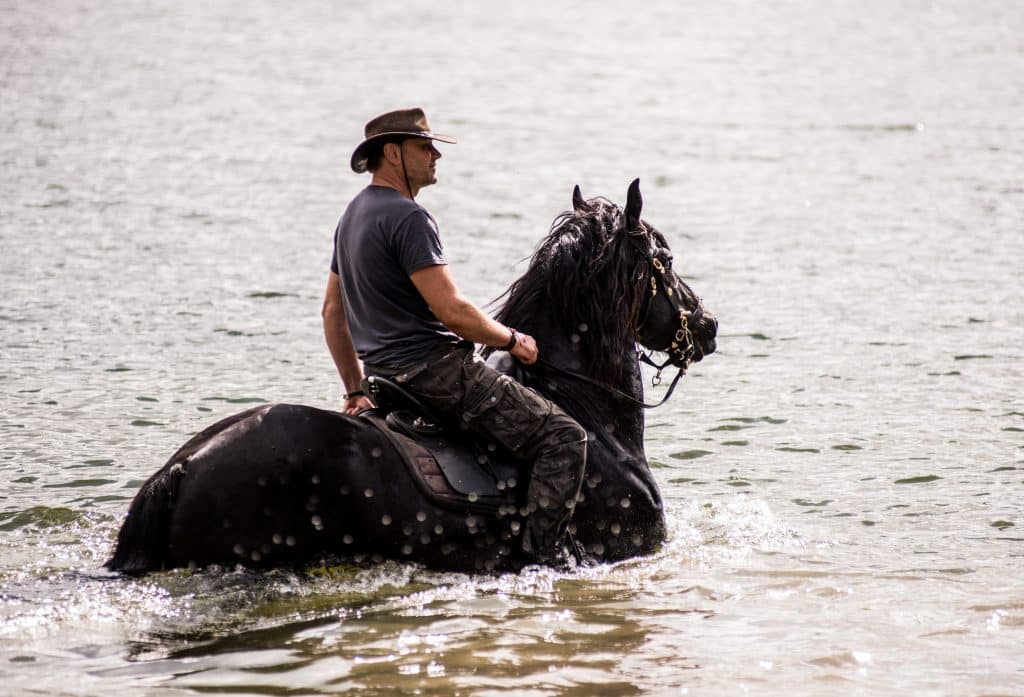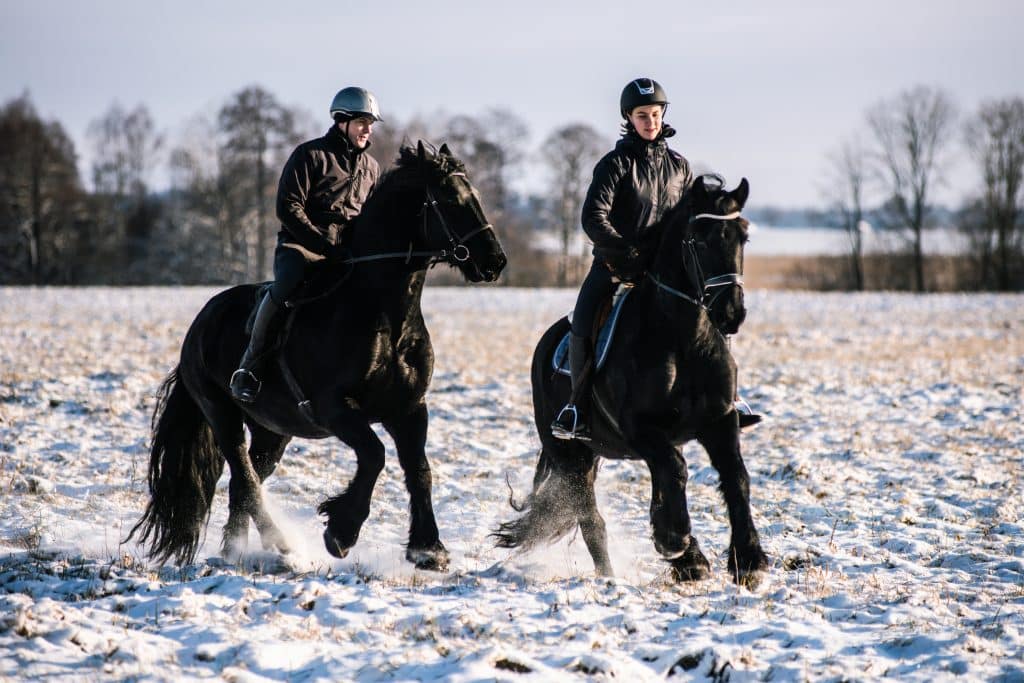 Horse Riding with a Change
We understand that some people may just only want to try sitting on the horse, walking a circle on it. It is a good opportunity for a family who has never ridden a horse and wants to experience it for the first time.
Horse Riding by the Sea
Wouldn't it be fun to ride a horse by the sea? On a black, noble race horse, with a long, beautiful tail and mane. It can be arranged, contact us for more information!
Photoshoots with Horses
Photoshoots with horses are a chance to capture beautiful photos of you or your family, but they do require a little planning. We will give you a pre-shoot consultation to discuss what you want for your photos, go over the disposition of the horse and the location for your horse photography session.
You can always bring your photographer, but we highly recommend working with an equine photographer. They have experience with horses and know the best techniques to get a shot that both you and the horse look good in! Check out our video of Gabriele's photoshoot below (non-equestrian model):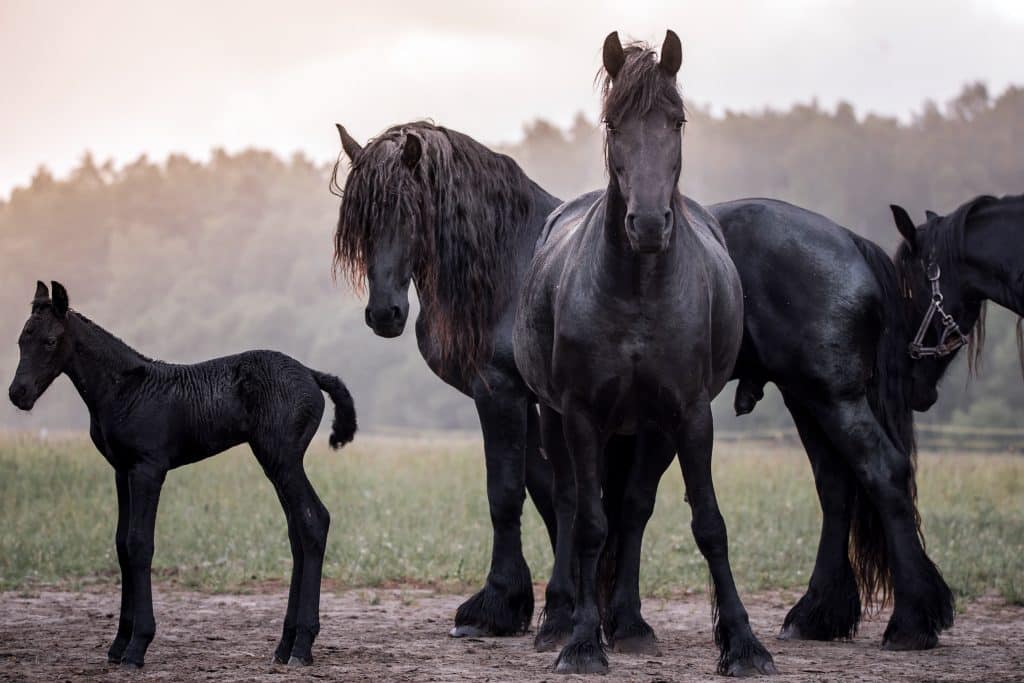 Carriage Ride
Since we have horses in the homestead, there are a number of routes in the area, which are impassable. Where a car does not drive through, it is almost always possible to drive with a carriage. We harness a couple of Friesian horses into the carriage.
A Ride with a Double Carriage around the Area
A ride lasting up to a couple of hours where you'll hear about horses from an experienced guide, learn about local attractions, the lake, and more. A quiet, relaxing ride through the woods, fields and local surroundings. For holidaymakers interested in mushroom or berry spots, we will show you where the best spots are.
Carriage Ride to Darbėnai Town
Want to drive to our nearest town for shopping? Do not feel like driving a car? You can do that while riding a horse. An experienced driver will take you to the nearest store in less than half an hour and at the same time you will have a fun ride experience!
Carriage Ride to the Sea.
This is the longest carriage ride we can currently offer. If we drive to Šventoji through Butinge, such a one-way trip can take up to 3 hours, because we do not want the horses to overwork and get tired. During this hike, the driver will tell you about Friesian horses, carriage rides, nearby attractions and other interesting things.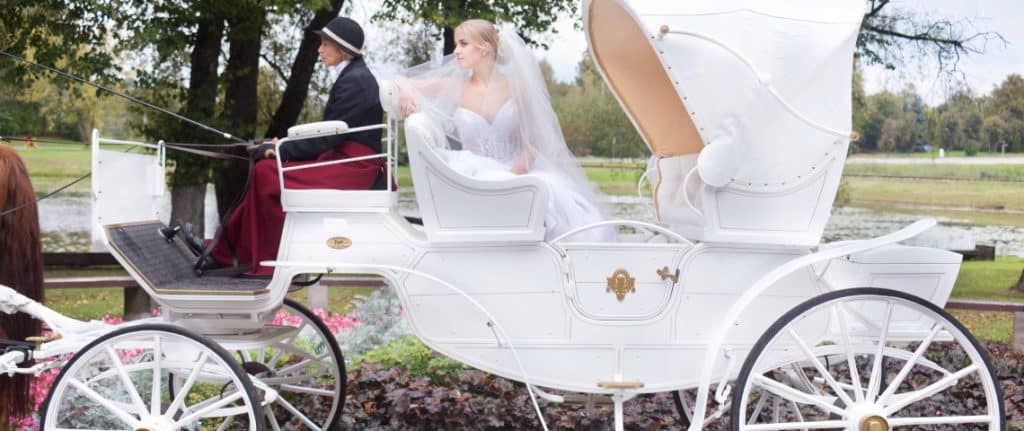 Wedding carriage
Do you want an exclusive celebration that you will carry in your heart for the rest of your life? The white carriage is perfect for any occasion!
Weddings must look luxurious!
Attract everyone's attention by riding in a white, wedding carriage. It is a performance that you cannot forget. Trained horses will allow you to go any route – on the trails of your favorite park, in a place of your first date, in the city center, or maybe to a church or a place of celebration – the choice is yours!
Carriage for Photo Sessions or Advertising
Want a dream photoshoot with a horse and a carriage? We will give you this opportunity. We suggest filming promotional videos with a carriage or Friesian horses!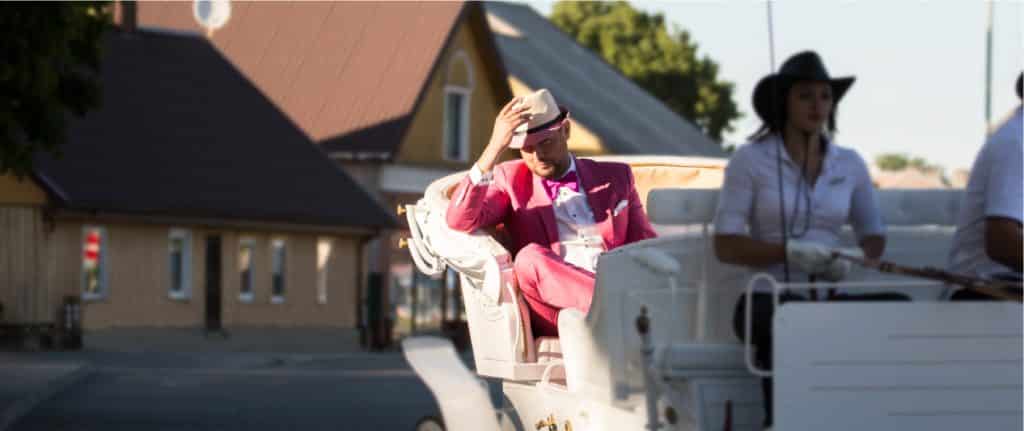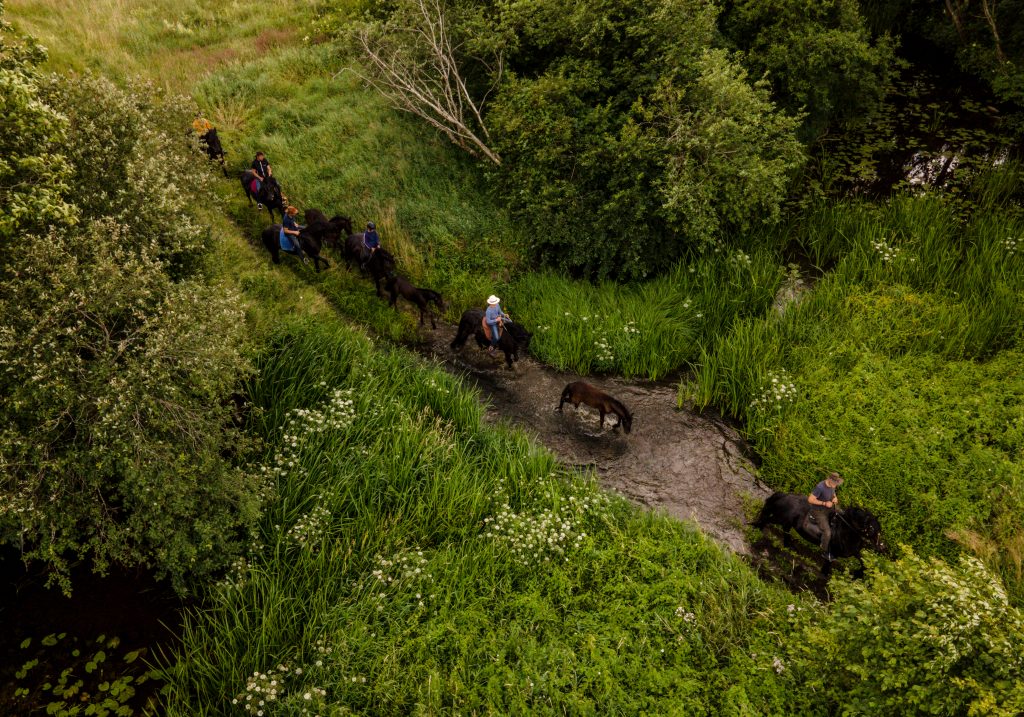 Tours with Horses
Explore the spectacular beauty of the diverse land by roaming through the 15-40 km of trails and lose yourself in the myriad of footpaths under the lush canopy of the forests. Gallop through the precious Lithuanian lands, rivers and forests.
You'll rise at dawn in your wooden cabin to ride and then steam in the sauna or relax in a beehive therapy. Looking forward to experience this? Contact our team for more information.